WHY BELGRADE?
Belgrade, the capital of Serbia, is located in the heart of Europe, so it can be easily reached by plane (1-1.5 hours away from most of European capitals), by car, bus or train. Belgrade, with its population of 1.5 million, lies on the confluence of two big rivers – Danube and Sava. History of Belgrade dates back 7 thousand years BC, through Celtic, Roman, Ottoman to modern era. Nowadays, it is modern city – centre of culture, sports and business of South-eastern Europe. It is one of the safest cities in Europe, with standard continental climate. Belgrade is known as very vibrant city, particularly attractive to young people, as it offers a variety of cultural, sports and entertainment options seven days aweek.
WHY UNIVERSITY OF BELGRADE?
University of Belgrade is one of the oldest universities in South-Eastern Europe (founded in 1808). Today, it is also one of the few largest universities in Europe, with more than 100 thousand students and 4,000 professors organized in 31 schools and 12 research institutes. University of Belgrade is one of four top ranking universities in Central and Eastern Europe (Shanghai Ranking).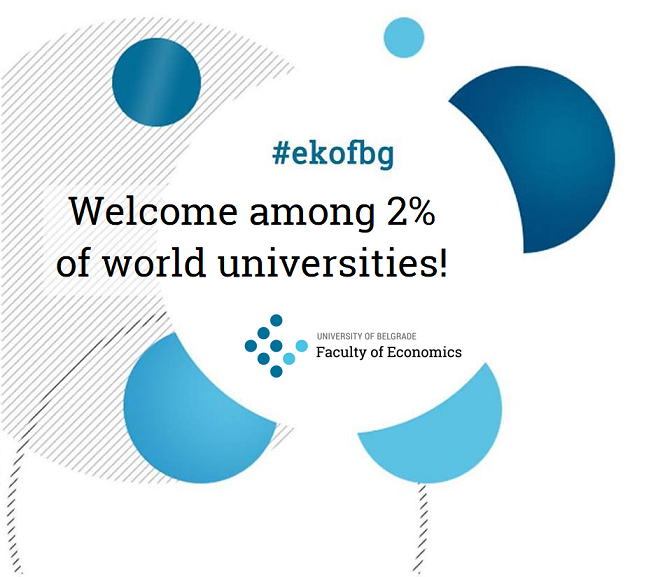 WHY FACULTY OF ECONOMICS?
Our school was founded in 1937. Today, it is a modern school with long tradition, aimed at providing cutting-edge knowledge, skills and research in economics, business management and statistics. With more than 7 ,000students and 120 professors, located in Belgrade downtown, it is one of the largest schools of the University of Belgrade. In addition to tradition, modern curricula and high-quality staff, our school is distinguished for many additional reasons:
The only school in Central and South-Eastern Europe to offer International bachelor programmes in economics and finance and business and management, fully taught in English. These programmes provide two degrees – one awarded by the University of London (academic direction – London School of Economics and Political Science) and one awarded by the University of Belgrade (Faculty of Economics);
Four distinguished international master programmes, fully taught in English by renowned international academics;
ACCA accredited programmes;
Member of EFMD;
Internship opportunities in a large number of companies in 88 countries as well as in over 500 companies in Serbia;
Start-Up center – business hub providing assistance to students who want to turn their ideas into viable businesses;
Many options for students mobility to more than 100 universities from around the globe, through Erasmus+ and other exchange networks.
WHICH COURSES ARE AVAILABLE TO INTERNATIONAL STUDENTS?
Study programmes at the University of Belgrade – Faculty of Economics, are designed in accordance with Bologna declaration principles. Exchange students may opt for some of the courses from our international bachelor and master programmes, which are fully offered in English (lectures, readings, exams).
In addition, exchange students may choose any other course from our local programmes. For these courses the lectures are not provided in English, but students can get books and exams in English and may have a regular consultations/tutorials with professors in English.
HOW TO APPLY?
ERASMUS + students apply through the University of Belgrade MobiOn platform.
CEEPUS students apply through the CEEPUS platform.
Application for non-ERASMUS students: candidates (including CEEPUS students) need to complete and send the  APPLICATION  together with the  LEARNING AGREEMENT  and other documents required in the application to the address: international.office@ekof.bg.ac.rs.
Required documents:
Official Grade Report of the student

CV

Nomination letter by home institution (template)

Motivation Letter 
All documents have to be in either English or Serbian.
Detailed information on academic calendar given in our FACTSHEET.
For all additional information, please feel free to contact our International Office: international.office@ekof.bg.ac.rs.
FUNDING AND USEFUL LINKS
EXPERIENCE OF EXCHANGE STUDENTS
Anna Yakovleva, Russia

I came to study at the University of Belgrade in the spring semester 2016/17. For the study I chose three subjects: marketing channels, business marketing and English language, I also went to the courses of the Serbian language. Lectures were held in the Serbian language. The first time was difficult, but after a few weeks I adapted and knew almost everything that was said by teachers. The first thing I noticed in the process of learning was that students are given more freedom and time for independent study. The teachers are open for communication; answer all questions of the students. In addition to my studies I was able to travel through Serbia. Serbian people are kind and open, always ready to help. I came on an exchange program in Belgrade for the second time and if possible, with pleasure, will come again!
Andreas Ruhsert, Germany

It was a pleasure for me to get to know many people from different countries in Belgrade by the Erasmus Student's Network. There were only a few exchange students at the Faculty of Economics during my semester, but that did not matter to me. Because of that situation we could speak to the professors personally whenever we had to. I was lucky that the faculty offered similar courses like those I would have attended in Germany and the results of the exams were counted at my home university. In general, all the Serbs I met where very open-minded towards guest students. For those who are planning to go to Belgrade as a guest student, I would advise to get in touch with the Erasmus network at an early stage in order to clarify matters such as accommodation. In hindsight I am very glad that I spent this time in Belgrade and would very much recommend it to everyone.
Venneisha Myers, Jamaica

I remember my first day on Economics Faculty very clearly like it was yesterday. It was very difficult at first, coming from Jamaica and not knowing anyone and a strange language but the professors and my colleagues were very helpful and understanding. I then joined the student union and made some amazing friends and shared in inspirational projects with these brilliant student leaders. It has been such an amazing cultural experience and learning opportunity. I have grown exponentially and have discovered new strengths and abilities within myself.
Jiří Lysák, Czech Republic

I spent 5 months doing an exchange at the Faculty of Economics in Belgrade and I was excited about it. Thanks to the local ESN organistaion, students at the faculty and my colleagues from the student dorm, integration in between the locals was really easy! All of them were nice to me, always kind, friendly and helpful if needed. I was pleasantly surprised about the atmosphere at the faculty and about how much are Serbian students motivated and dedicated to study. I can honestly recommend doing an exchange in Belgrade to anyone who is interested.